How The Great Game of Business and B Corp Benefit Employees
5 min read
How does a company become B Corp certified? The first step is to conduct the B Impact Assessment to determine where your company stands in regards to best practices in Governance, Workers, Community, Environment, and Customers. The assessment will ask different questions based on your industry and number of employees. The B Lab team will help guide you and will ultimately audit your assessment. Companies playing The Great Game of Business have an advantage in seeking B Corp certification and will score well in the Workers category. The baseline for B Corp certification is 80 points, which are hard-earned!
Broughton Consulting recently achieved its 3-year recertification at 82.9 points. Because we are a service business, we have less impact on the environment, so we focus on other ways we can make a difference. Our biggest impact is on customers (mostly frontline workers at Great Game™ companies). On the other hand, newer B Corp, Counter Culture Coffee, has the opportunity to focus on their environmental impact. They have a strong commitment to ethical sourcing of their coffee and score very high on Community. Counter Culture embraced The Great Game of Business as a way to become more transparent and promote understanding and ownership at every level of their company.
The clear structure and roadmaps of both Great Game of Business implementation and B Corp certification are appealing to both Diego Castro, Counter Culture's Technical Services Manager, and Bryan Duggan, Counter Culture's Director of Sales Operations. "For me, it comes down to just how tangible the steps become," says Castro. "It's great to have an overarching purpose in using business for good, but B Corp and The Great Game of Business add structure and areas of focus. Sharing financials, implementing charters for the B Teams – that's not structure we would have found on our own."
"It's refreshing for me because it takes the guessing game out," adds Duggan. "B Corp certification doesn't allow you to chase trends or not be genuine – you have to take next steps that are internationally vetted and recognized." He appreciates the opportunities Counter Culture provides for employees to pursue goals and shared values. "You can go to any business and put your head down and work, but here, employees are charting the path towards things like financial literacy and waste reduction."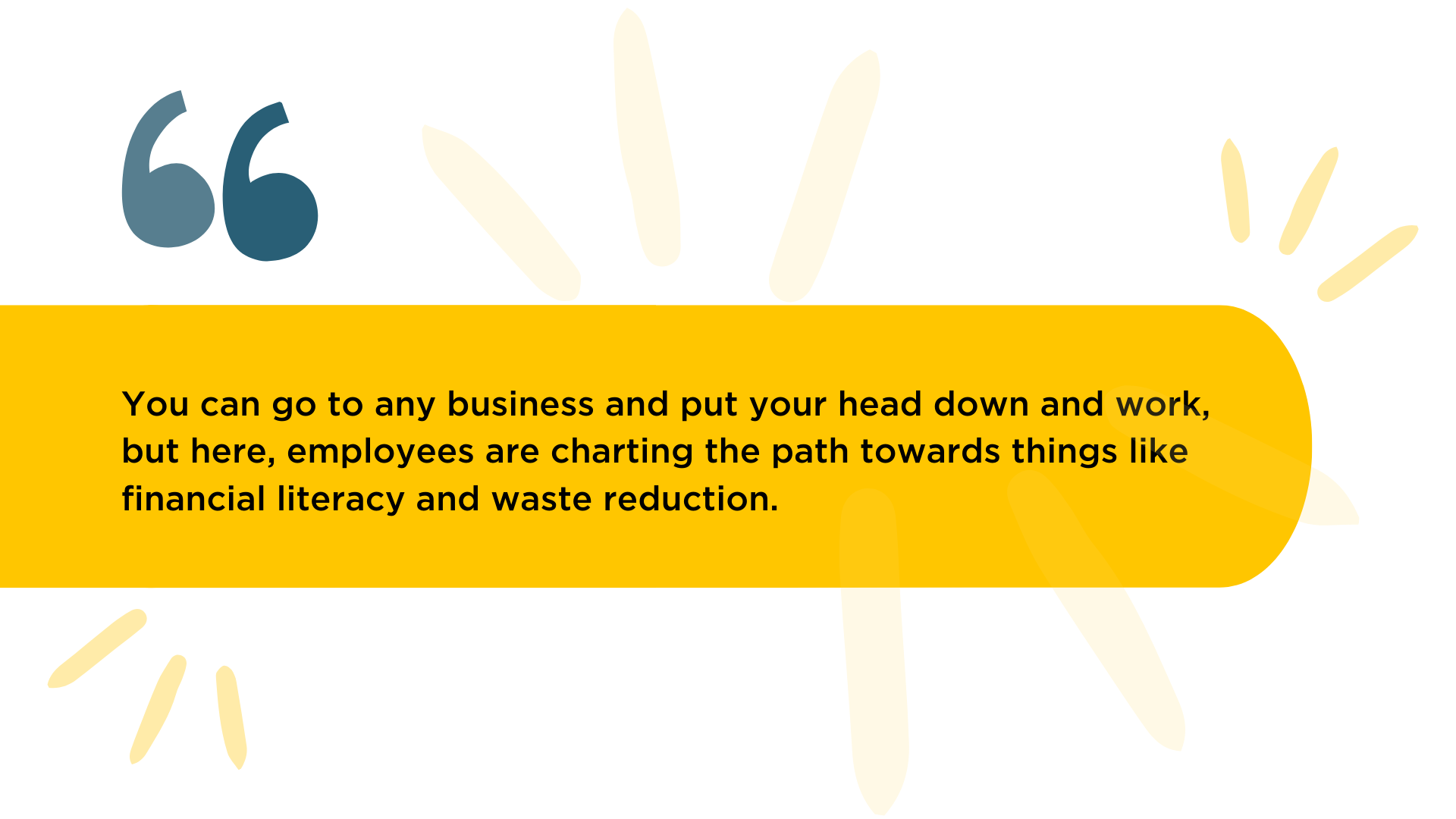 B Corporations are deeply involved in their local communities and goals around volunteer work. They screen their vendors and suppliers for good practices and look to minimize their environmental impacts. They are committed to JEDI (Justice, Equity, Diversity, and Inclusion). There are many resources available in the B Corp community to help businesses improve in every way — most of which wouldn't be accessible to the average employee in a non-B Corp environment, says Elizabeth Stillwell, Counter Culture's Vice President of People and Culture.
"For me it is about community and engagement, since both The Great Game of Business and B Corp allow our team members to crowdsource and share ideas," says Stillwell. "They allow access to research, resources and connections that otherwise would be hard to reach for the individual contributor in our company. This increases stakeholder involvement in our organizational goals related to social, fiscal and environmental sustainability and supports our effort to be a learning organization."
It's not easy to qualify for B Corp certification (or recertification), but it can be very rewarding to be part of an international community committed to continuous improvement and using business as a force for good. Since employees increasingly value being part of a business that is committed to a higher purpose, Great Game™ practitioners might consider whether or not B Corp certification is a good fit as they seek to attract and retain their workforce. It has been very beneficial for Broughton Consulting, and we look forward to being part of both The Great Game of Business and B Corp communities for years to come.
---
Looking to start implementing The Great Game of Business? See if a Great Game of Business Certified Coach is right for you.

---
Other articles you might like: