Jarred Kelenic is focused on bringing a title to Seattle
14 min read
WAUKESHA, Wis. — The lab sits off Les Paul Parkway in suburban Milwaukee, tucked away behind an expanse of oak and Norway maple trees and attached to the eight amateur baseball fields that were constructed just a decade ago.
The façade is tan and the roof, red. There are just 10 windows on this 50,000-square-foot structure, giving it the look of an amped-up trailer home. But its functionality is far grander than that.
The interior houses an 80-yard turf football field where, on this afternoon, three-time NFL Defensive Player of the Year J.J. Watt is training. To his right is the full-fledged weight room way larger than the one at T-Mobile Park, where local high schoolers are using the 16 power-lifting stations. In the back, there's an NBA-sized basketball court that sits empty, waiting for its next practice.
Upstairs, there are seven batting cages where a handful of teens are practicing for an upcoming summer league game. Next to them is a golf tunnel tailor-made for simulations among area college athletes impacted by winter weather extending into spring.
One would be hard-pressed to find a locale with a cast of athletes this eclectic. NX Level Sports is a full-fledged facility, welcome to all. It smells like a high-school locker room and looks like the Olympic Training Center. It's an athlete's lab, the one where Jarred Kelenic — a baseball cyborg in so many ways — was built. When he's here, the Mariners' 22-year-old outfielder is home.
***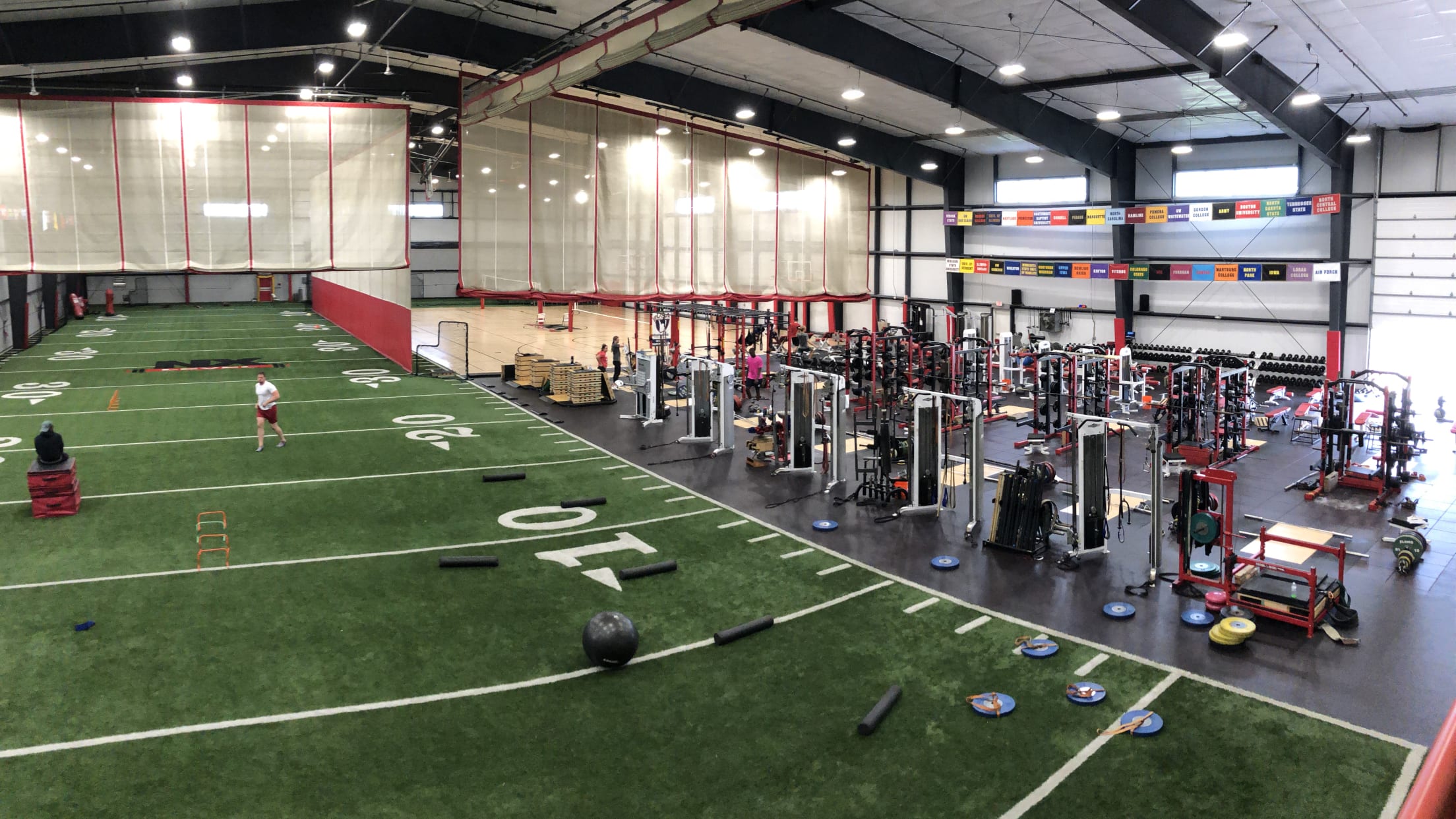 On this mid-week afternoon in the NFL offseason, J.J. Watt, one of football's all-time greats, trains at NX's vast facility. Watt also hails from Wisconsin and has worked out with Kelenic when their offseasons overlap. | Art or Photo Credit: Daniel Kramer, MLB.com
In a one-on-one interview late last season, Kelenic halts briefly for some self-deprecation. He's outlining his offseason plans then laughs at himself when sharing that he stills lives with his parents when he's not with the Mariners.
"It'll probably be the last time," he says through a sheepish grin.
Sure, a big lure back is NX Level right up the road and the comfort of training in an environment he's always known. But Kelenic at his essence is a homebody who puts family above all. He spent the entire quarantine period during the early days of the pandemic here with his sister, Taylor, and brother, JT, along with his mother, Lisa, and father, Tom. The world was unraveling outside, but at least they had each other — just like old times.
Old times also meant fierce and unapologetic competition. Fans see that side of Kelenic every time they watch the Mariners — a hustle double, a diving catch, even the jubilation of drawing a critical walk, an act that can seem mundane. All of that was birthed here at Casa de Kelenic, dating back to his borderline diaper days. Basketball in the driveway, soccer in the backyard, and heck, even games that he'd literally make up on the fly; they're all played with the same intensity.
"It could be throwing horseshoes, where he's not competing for anything," Lisa said. "But it's just in that moment, he can get very clear what he needs to achieve and get after it."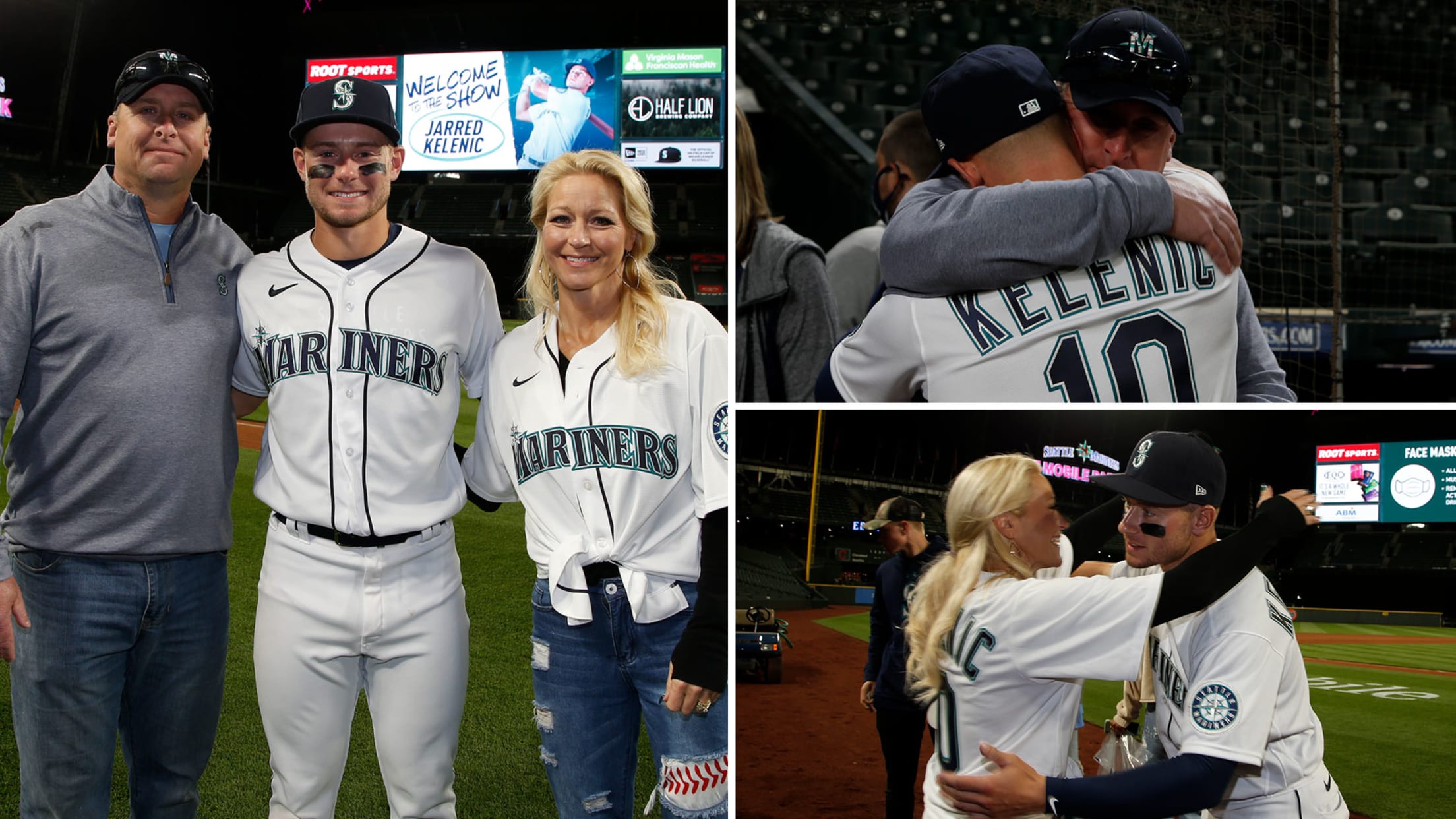 Following Kelenic's big league debut last May, he shares emotional embraces with his parents, Tom and Lisa. | Art or Photo Credit: Ben Van Houten
If competitiveness is Kelenic's yin, goal setting is his yang. The ambition of becoming a big leaguer is what got him out of bed every morning as a kid, and he's aspired to that goal since before he or his parents can even recall.
"It was so young," Kelenic said. "I don't even think I can remember how young I was."
Lisa says it was some time before Kelenic was 5 years old, because that's when he was raking his way through a T-ball league when a mother of a child on the other team requested to see Kelenic's birth certificate. Lisa turned the woman down, perhaps with a little sass, citing that she wasn't stacking a team that young. And by that point, Kelenic's career, in the youngest form, was off and running.
Tom tells a story from that same year, when Kelenic, who is left-handed, insisted on playing shortstop, a position that lefties don't play. With runners on first and second and nobody out, Kelenic snagged a line drive with both runners advancing, sprinted to second for the second out, then hurled to first to complete a triple play. Again, Kelenic was just 5 years old.
"The majority of the people in the park, much less the kids, had no idea what the hell just happened," Tom said. "But he knew. He wanted to be in that position. He could just process things so fast."
***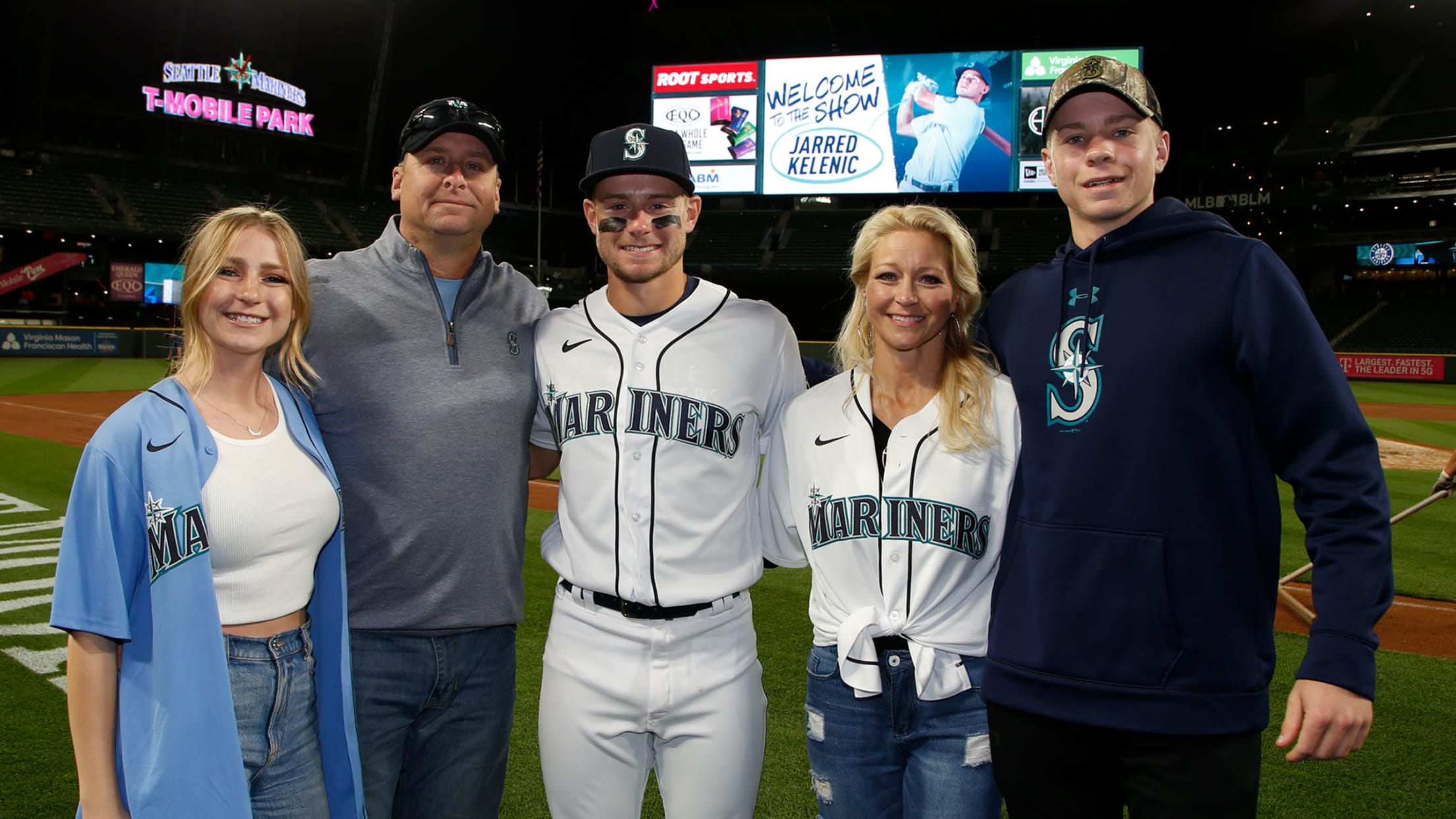 Jarred Kelenic and his family following his big league debut. | Art or Photo Credit: Ben Van Houten, Mariners
Tom's working background began in remodeling and consulting but shifted to construction and management in 2009, well before Kelenic began high school. Shortly after, Kelenic began playing travel ball and his older sister was an area soccer standout, which led to the family being on the road regularly. It was fun but exhausting.
The Kelenics would cover miles that began with after-school pickups but ended on I-94's late-night expanse, searching for food and energy. They did this to accommodate their children's athletic ambitions, and it was always worth it, but to what end? After a few meetups with other parents, it became clear that there was a need for a stronger athletic infrastructure in Waukesha, especially baseball, where the climate only permitted outdoor competition during peak summer.
So, Tom got to thinking. There was a social demand for facilities that could specifically cater to Waukesha's growing population of youth baseball players and their families, as well as an economic opportunity to fulfill that need, one that the Kelenics were directly impacted by due to the growing costs and fatigue of extended travel ball. There wasn't exactly an "aha!" moment, but at some point in 2012, Tom decided to construct a five-field facility and create formal amateur baseball and softball leagues for the area, which manifested through his new company, 5 Diamonds, Inc.
"The only thing that we really didn't do was the asphalt and the fence," Tom said. "I mean, we built a concession stand. We were out there from sun-up to sun-down for a whole summer. And then went right into playing."
Kelenic, who was 13 years old at the time, and his sister, Taylor, didn't just play there once it was constructed — they also had a typical teenage job, working the concessions, restocking inventory, grooming the fields and just about anything else to keep the gears churning as their family's business was getting off the ground.
"It was just really, really hard to start that kind of business, a seasonal business, and have the infrastructure that we had to spend to build it," Tom said. "It wasn't like you could hire people and just start paying them. It was hard on everybody."
Nearly a decade later, 5 Diamonds is one of the most prominent youth leagues in the area, one that Brewers manager Craig Counsell's youngest son is a product of. Tom coached him a few years back.
Since the company's inception, Tom's company built Five Diamonds in 2010, NX in '16 and STiKS Academy in '17, the site where Kelenic skeet-shot a frisbee off a tee in a social media post that went borderline viral when he was still a top prospect. Kelenic continues to train there, daily, in the offseason.
A big league ballpark is the venue Kelenic always chased, but it was these suburban facilities that helped get him there.
"I've always said that my parents, they paved the way for me," Kelenic said. "And it was my job to just walk that road, and that's something that I've always told them how much I appreciate [them]. I always made sure that when they would pay for me to go on playing these tournaments across the country, when they would pay for the hotel rooms, I always felt that it was my job to best prepare myself to perform in order to get the ultimate goal out of it."
Tom and Lisa didn't construct these facilities explicitly to usher in their children to professional careers in sports. Sure, that'd be a nice byproduct, but it was never the intent or expectation.
"I just think if you look at all the things that we built here," Lisa said, "it really just kind of mirrors our philosophy that we have for our kids. 'Let's give them as many options as we can for them to perform and find their passion for what they enjoy.' … I think ultimately, it still comes down to that core belief that people are just driven to want to perform up to their potential. If you give them that opportunity, they'll do that. I just think that's a good reflection of Jarred and what his childhood was like."
***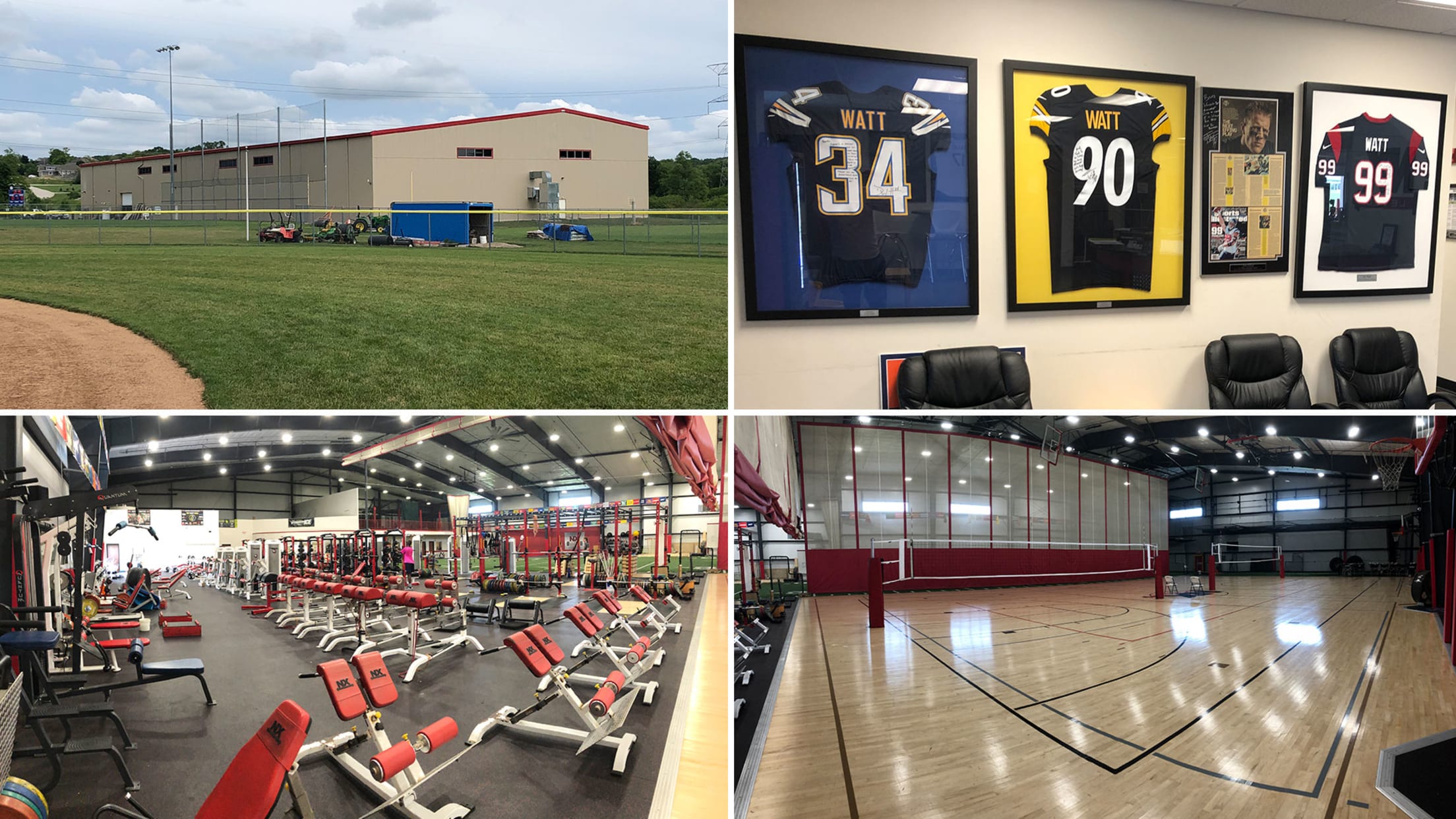 The construction of NX Level Sports Performance was overseen by Kelenic's father, Tom, and is now one of the preeminent athletic training facilities in Wisconsin. | Art or Photo Credit: Daniel Kramer, MLB.com
By seventh grade, Kelenic was already dreaming of the big leagues, and as such, had a head start to tailor a specific path to get there.
In Wisconsin, high school baseball is played in spring or summer, and Kelenic's district was the latter, which meant he'd have to play for his team in May and June, then the state tournament in July, which would eliminate his chance to play travel ball. So, he decided to exclusively focus on travel ball, which led to more exposure and tougher competition.
In 2016, he committed to the University of Louisville and was all in on chasing the College World Series. In the interim, Kelenic played in showcase events and for two Team USA teams that won gold medals internationally, including the 2016 Pan American Games in Mexico, where he was also named the tournament's MVP.
That's when the Majors, in his parents' eyes, seemed incredibly real.
Kelenic keenly followed the Draft prospect rankings from MLB Pipeline, Perfect Game and Prep Baseball Report, and he always felt that geography was out to get him. Wisconsin, after all, was not an amateur baseball hotbed, and as such, it didn't regularly lure scouts. So, when he'd check in the Top 100 but not, say, the Top 25 (or higher), Lisa said that for Kelenic, "that wasn't good enough for him."
So, Kelenic took his Draft profile into his own hands. He compiled an Excel spreadsheet mapping out his entire travel ball schedule — venues, game times, weather, distance needed to get there, the level of competition, etc. He proactively pitched himself to any scout who gave him their phone number.
"He communicated with them," Lisa said, "letting them know, 'Here's what I'm playing.' If there was going to be a rain delay or if there was rain in the forecast, he said that. Knowing ahead of time, just, 'Hey, I'm giving you a heads up. There's rain in the forecast, I'll keep you posted.'"
That relentless drive led him to more exposure and opportunities. He graduated early in December 2017 to pour all of his efforts into preparing for the '18 Draft the following June, opting to forego the opportunity at Louisville. By then, he was touted as the best pure-hitting high-school bat in that year's Draft class. The Mets took him No. 6 overall, the highest high-school pick that year, and the highest selection ever from Wisconsin.
But the goal was far from achieved.
***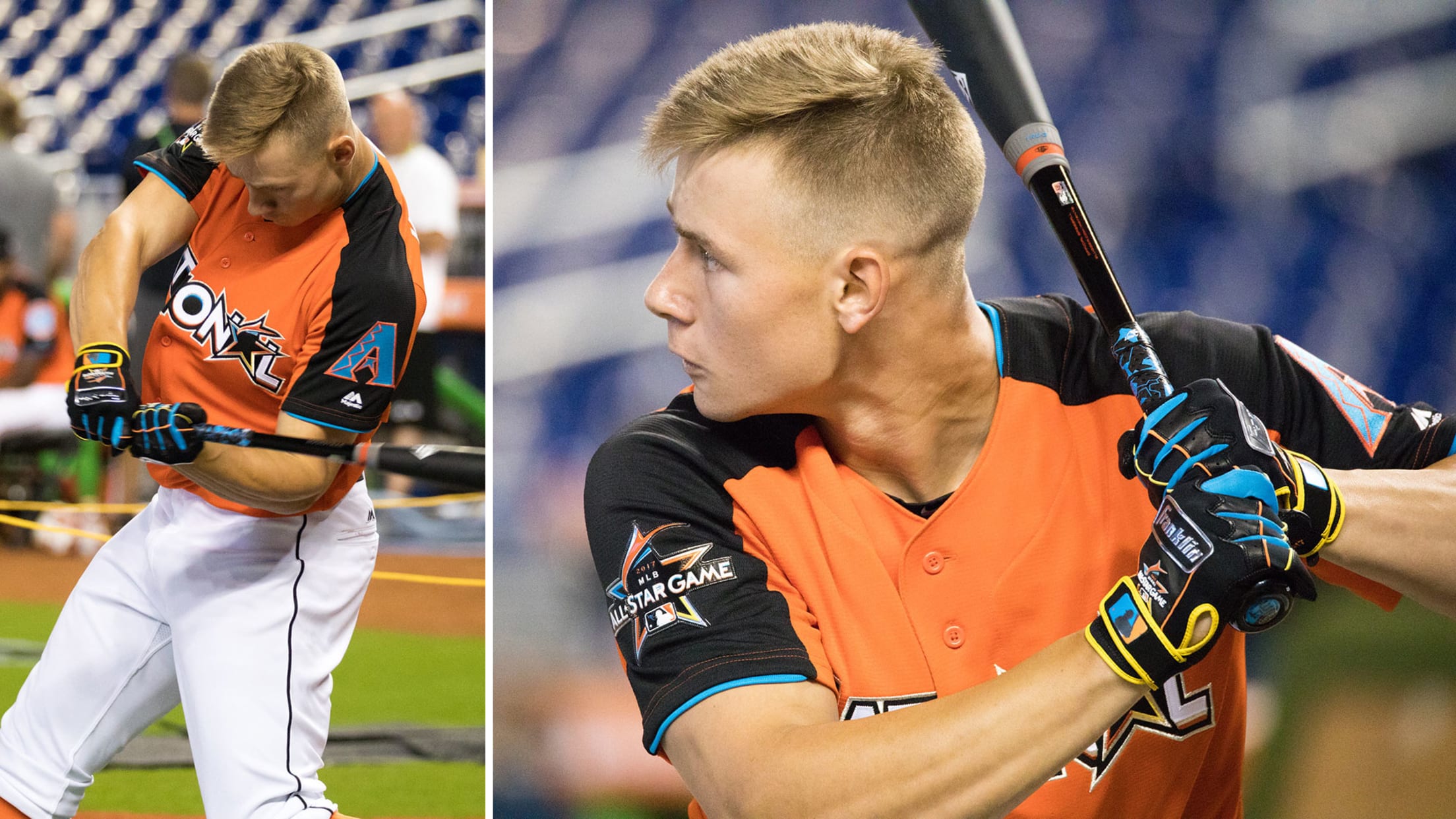 In the summer after his junior year, Kelenic participated in the High School Home Run Derby held in conjunction with the 2017 All-Star Game at Marlins Park in Miami.
The story of what happened next is mostly mainstream, especially to Mariners and Mets fans. That December, New York had hired an ambitious agent Brodie Van Wagenen to be their GM and he wanted to make an immediate splash. Seattle was looking to trim its aging and expensive roster. So, Mariners GM Jerry Dipoto shipped Robinson Canó and the remainder of his $240 million contract, along with All-Star closer Edwin Díaz, in exchange for five low-cost players. But the prized return was Kelenic, a top-end prospect with flair, confidence and charisma that Dipoto could build his bleak farm system around and sell a rebuild to his fanbase.
In many ways, the acquisition of Kelenic — but just as much, getting out from under Canó's contract — sparked Seattle's rebuild. With that came enormous hype, but also expectation.
Kelenic ate it all up.
He was the club's Minor League Hitter of the Year in 2019. Then, despite the pandemic shutdown in '20, Kelenic showed up to Summer Camp intending to play his way onto the roster despite just 81 Minor League games under his belt. When he didn't, Kelenic began playing hypothetical GM, mapping out the Mariners' roster moves and needs that would necessitate his callup. But it never manifested, and he wasn't shy about his frustration with it, posting passive-aggressive social media commentary suggesting he deserved the opportunity.
For those who followed closely, it looked like Kelenic was toeing the line between confident and cocky, and by Spring Training, things had come to a head. Former Mariners president and CEO Kevin Mather made comments about Kelenic's timeline to the Majors and a contract extension that the club offered but Kelenic turned down. That left Kelenic incredibly — and publicly — frustrated, and it made his situation one of the most prominent storylines in baseball during Spring Training.
When he didn't break camp with the big league team, Kelenic was more reserved but still frustrated. His time would come six weeks later, in mid-May, and he announced his arrival emphatically by homering for his first career hit with Tom, Lisa and other extended family in attendance.
But Kelenic didn't sustain that epic showing. He went 5-for-75 with only one extra-base hit in 21 games after that homer and was sent back to the Minors, an experience that turned his tone into a drastically more humble one.
***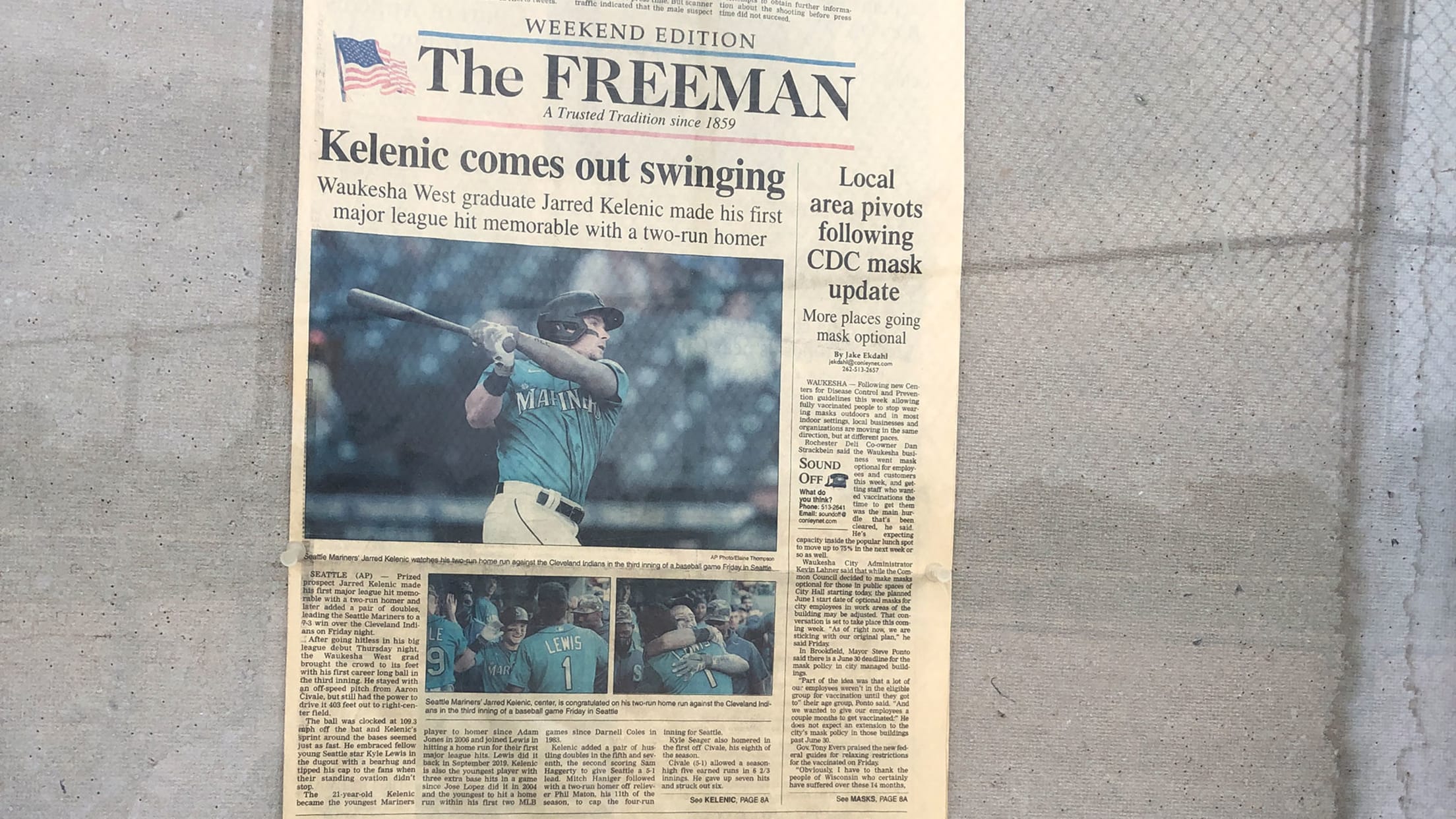 Kelenic headlined Waukesha's local newspaper after his big debut in Seattle last year. A hardcopy hangs behind an enclosed bulletin board at 5 Diamonds. | Art or Photo Credit: Daniel Kramer, MLB.com
The most fascinating — and unknown — component to Kelenic when he was called up was how he would greet adversity, an emotional attribute that he'd never met directly. It didn't just come knocking, but it burst through his door and rudely slapped him in the face. He'll be the first to tell you as much, and he'll do so humbly.
He's also met it here early in 2022, with nine strikeouts in his first 15 at-bats. But he broke out of it in a big way against the White Sox on Thursday, crushing a 114-mph homer that lifted a big weight off his shoulders — and was perhaps a sign of things to come.
Scouting reports and prospect rankings only go so far, and Kelenic reads them all, and thoroughly. He was convinced that he'd make an immediate impact in the Majors, but moreover, he was determined to do so in spite of so many external factors. Kelenic would not have said it at the time of his debut, but season-ending retrospection allowed him the platform for humility, clarity — and closure.
I'm at a point where I try not to take it so seriously because, like, I've taken it so seriously my entire life that it just got exhausting. And so now, it's like, let my ability do the talking. I'm just here for the ride. … I mean, that's what it's all about, right?

Jarred Kelenic
"I'd be lying to you if I didn't tell you that stuff, whether you believe it or not, like, that wears on people, right? I'm human, too. I have feelings. And I think that, especially coming up when I first got called up, a lot of what people saw out here," Kelenic says as he gestures to a completely empty ballpark, "was what was weighing on in here," he adds, motioning both hands to his chest.
"I'm a firm believer that if you have problems off the field, at some point, you're going to have problems on the field. And that was, I think, a direct reflection of what was out here. But the best part about the whole [Mather] situation is that now it's … we're past it. We've all turned the page and we're so focused on winning and bringing a title to Seattle, that's such a distant memory.
"At the end of the day, man, there's nothing I could have done. It was completely out of my control. But I'll always look back, and know that is going to make me better."
***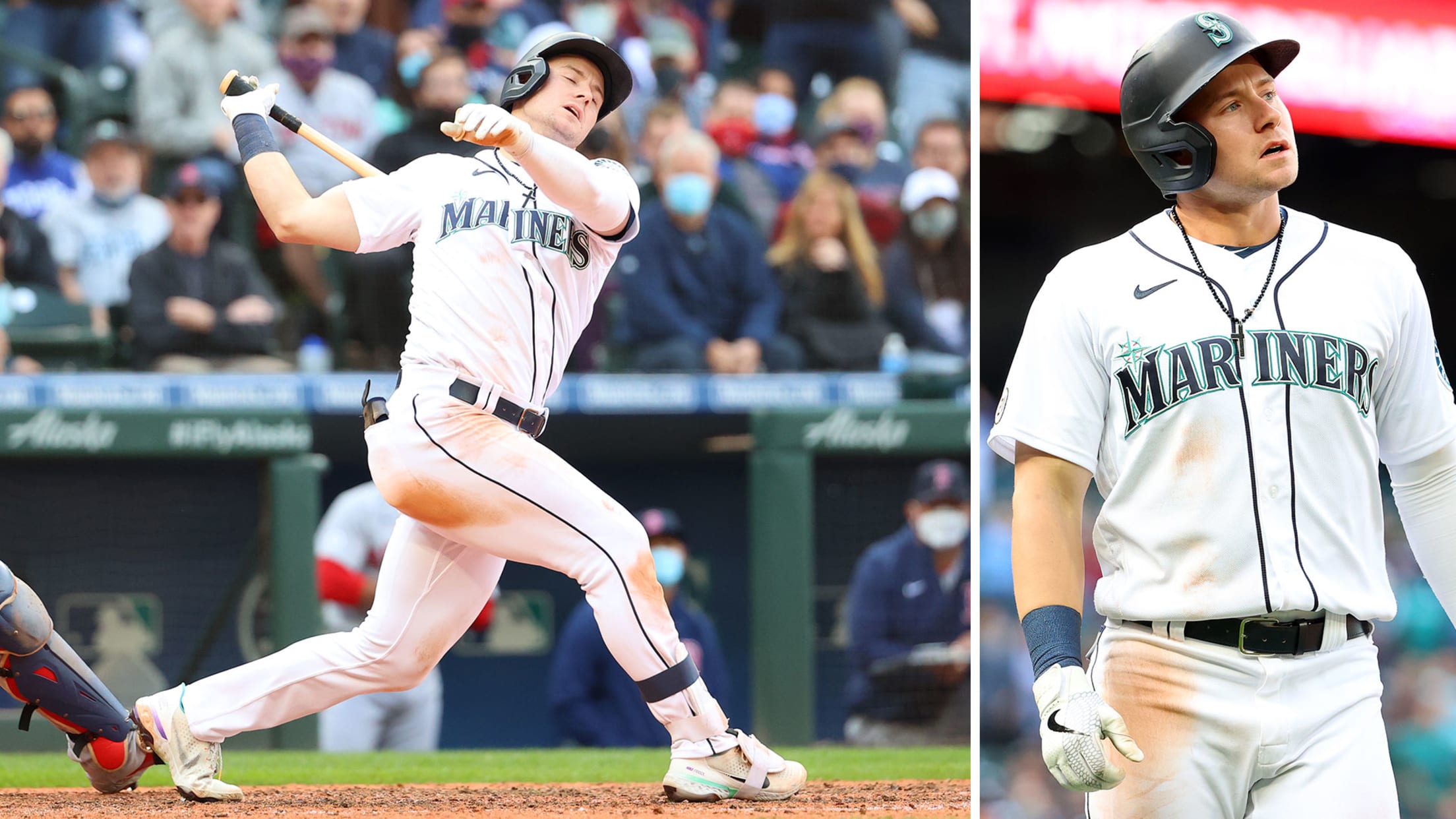 When things went bad for Kelenic last year, they snowballed. He struck out 28.1% of the time and hit .181, performing well below his own expectations.
After a long winter that felt even longer due to the lockout, Kelenic arrived at Spring Training in a more positive and outgoing headspace — vastly different than the one marred by vexation, expectations and pressure one year ago. It was noticeable to everyone.
"Quite a bit," Mariners manager Scott Servais said. "You're just watching how he's interacting with his teammates."
Kelenic's big offseason changes were almost symbolically symbiotic to each other. One was a mental reset in the confines of home. The other was to his swing — not a complete mechanical overhaul, but more of a cognitive one, birthed through extensive work with Mark McGwire, all virtual, thanks to an introduction through his new agency, the Wasserman Group.
Rather than twist his bat tighter, load up heavier and swing harder, Kelenic is swinging like, in his metaphor, a golfer. Instead of using a pitching wedge at 100% effort if he's 150 yards out, opting for a nine-iron at 85%, it's going to get there cleaner because he trusts in his strength.
"I don't need to swing at 110%," Kelenic said. "It's just more me getting comfortable in the box and feeling like I'm swinging 85% and letting my ability take over."
It wasn't just his swing that was going full throttle in his trying rookie season — it was everything.
"I went through a lot last year, and it's really made me a lot tougher now," Kelenic said. "And I really wouldn't change anything. But I would say now, I'm at a point where I try not to take it so seriously because, like, I've taken it so seriously my entire life that it just got exhausting. And so now, it's like, let my ability do the talking. I'm just here for the ride. Just have fun with the guys, get to know people. I mean, that's what it's all about, right?"
And how about that adversity, the great unknown from a year ago that he has now met, and that he'll certainly face again throughout his career? Is he better equipped to handle it after everything he learned a year ago?
"For sure," Kelenic said. "And I think that if you don't take it so seriously, you're not so hard on yourself that you know when adversity hits, trusting yourself to know that you can get through it."