The next big step for data analytics within the insurance sector
4 min read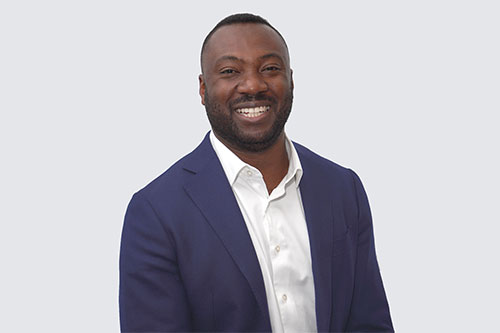 As a data-heavy industry, how insurance can process documents and extract the valuable data insights which these documents hold has been a significant consideration for a number of years. Across the globe, data and software companies are rising to the challenge, helping to mitigate this critical problem organisations face. Nay Odutola (pictured), area vice president EMEA at Hyperscience has been involved with the 'software as a service' (SaaS) industry for about 15 years, and with the AI and machine learning segments of this sector for the last six to seven years.
He has always seen this sector as a kind of eternal university, Odutola said, where the demand to stay ahead of the curve is imperative and can only be achieved through continuous education and re-education. If companies and individuals do not evolve, they will get left behind, he said, and the focus on 'continuous improvement' is what has led him to the AI and machine learning industries.
"If you look at insurance or financial services, or just at the time we're in right now," he said, "it's a very fast-paced evolving environment. In a year's time, there's going be another technology released, and because we're dealing with software, things are moving very quickly and it's about having the foundational tools to keep up and to evolve."
Odutola looked to where the market was going, and what was likely to be the next big thing to change the world and make an impact on business, which is what led him to Hyperscience, an automation start-up headquartered in New York City. He saw an opportunity to join a fast-growing organisation that was solving a real problem for customers and was moving into international markets, which Hyperscience did towards the end of last year.
What he likes about working in smaller organisations is the opportunity they offer for genuine autonomy and to really make a difference to the strategy and direction of the company, and he has loved being part of a company which is determined to focus on delivering true value to customers.
For Hyperscience, this means providing large organisations within key sectors including insurance, financial services, healthcare and government assistance with processing the high-value data that exists outside of their organisations and bringing it in. The company's proprietary solution uses machine learning technology to identify and classify documents and then to extract this data to make it machine-readable so that it can be utilised downstream. Extracting that data and getting it into a format that can be used by various business processes – for example, to drive analytics of customer behaviour – is critical.
"If you look at the insurance industry," he said, "it's an industry which has been around for a long time and despite technological advancements, it continues to do things very manually."
The big challenge in the insurance sector, Odutola said, is how historic data can be digitised for more effective and efficient use, and, crucially, how the manual processes which cost time, money and accuracy can be swapped for automated processes instead.  
When it comes to insurers working with start-ups today, he said, the biggest question is whether they will be around in five years' time. That focus on adding value and solving a mission-critical process is fair, and the business is currently in the position of working with some of the largest enterprises today, which is evidence not only of its growth trajectory but also of its stability as an organisation.
The most important thing to the insurance industry is accuracy, he noted, and that is the number one thing they need to get right. While many existing technologies may offer automation, there is no point in having this automation if the accuracy level is not high enough, extracted data is not reliable, and resources need to be wasted on double-checking whether the information collected is correct, he said, and this costs insurance companies more time and more money.
Once this accuracy issue is addressed, Odutola said, the question is how quickly this data can be automatically extracted for use throughout multiple business processes. Where Hyperscience has truly displayed its value proposition is in its enabling of a significantly faster processing time for insurance companies. When it comes to accessing the information that they need to make decisions, he said,  Hyperscience has the added side-effect of enabling companies to get back to their customers faster, which they have come to expect from service industries in recent years.
"We are now in that age where people want things immediately," he said. "And so, everybody is looking for a way to improve customer experience. Because the better you can improve your customer experience, the better you can retain this more satisfied customer and the more customers you can acquire, which is the ultimate goal that most businesses are looking for. By automating document processing and speeding up these internal business processes, you can help with that."